25 Years • Thousands of TV's Repaired
LCD LED DLP HD Plasma Projection Big Screen & Flat Panel TV's
Fast & Free Estimates



---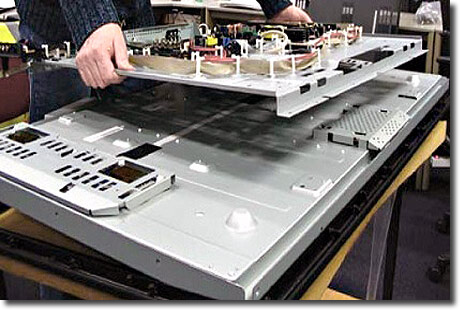 Factory Trained Technicians

Call For Immediate Support

Need Us To Come To You?

We're Mobile Radio Dispatched
Tap A Local Number

(818) 273-6070
(805) 628-4000
(626) 623-3400
(323) 851-9000
(661) 388-2200

One Year Warranty
All Parts & Labor
Instant TV Repair Quotes



◊ INSTANT MESSAGE US
Use The Text Message Form Below.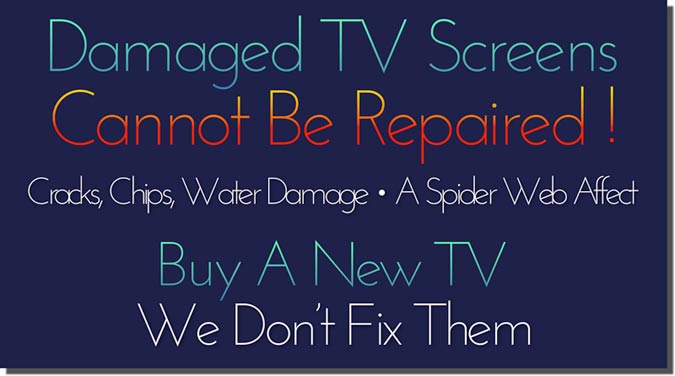 Damaged TV Screen?

It's NOT Repairable Economically
Any Physically Damaged Screen...
Cracked - Chipped - Punctured
A Shattered Appearance

Spider Web Affect - Water

Windex Abuse - TV Was Dropped

We Don't Fix Bad Screens!
Buy A New TV...


Expert Technicians

Factory Trained TV Repair Specialists

Fast Diagnostics
What's Causing The Problems.
Can The TV Be Repaired.
Is It Worth Repairing.
Should I Just Buy A New TV.
Is A New TV Better.
Cost To Repair Your TV.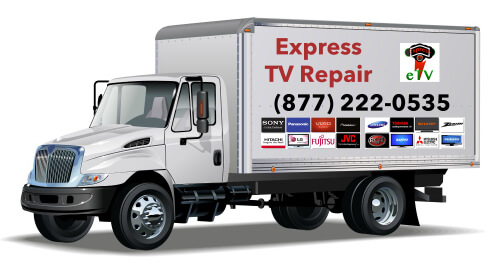 Need Mobile?
We Can Come To You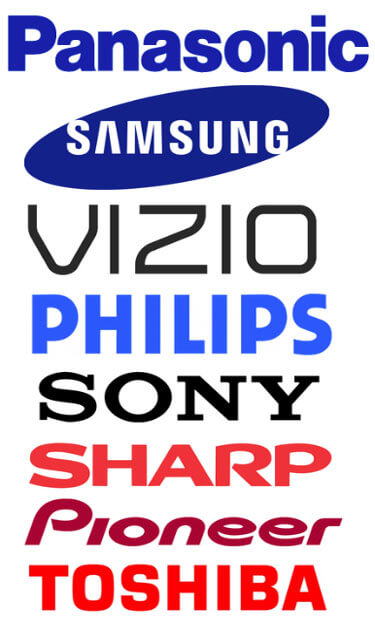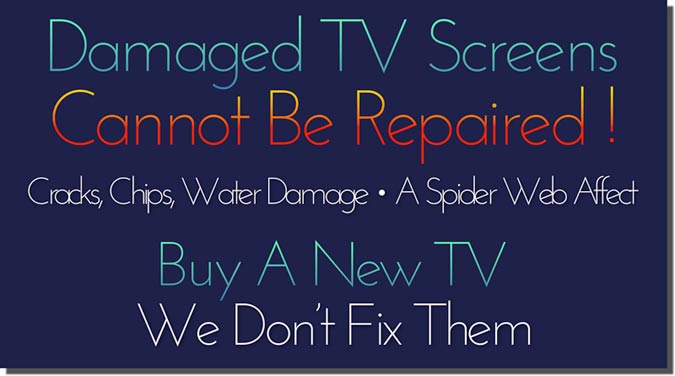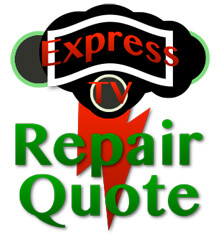 FAST HELP ANSWERS √

TV Diagnosis Short List

My Screen Is Black
No Sound - No Picture
Power Light On - No Picture
Got Sound - No Picture
Remote Won't Work
TV Clicks - Then Shuts Off
White Dots On The Screen
Shuts On & Off - Power Cycling
The Lamp Popped
HDMI Ports Not Working
No Signal From Any Source
Screen Is Damaged
Cable TV Box Not Working
Distorted Color Of Images
Power Light Blinking - No Picture
Vertical Lines - Top To Bottom
Screen Is Drab & Faded
Horizontal Lines - Left To Right
We Heard A Popping Sound
Flashing Power Light In Sequence
Broken Connectors On Back
Ghosting Of Images
Color Is Blotchy & Distorted
Totally Dead - No Lights - Nada
Won't Shut Off - Gotta' Pull The Plug
Our Smart TV Is Acting Dumb !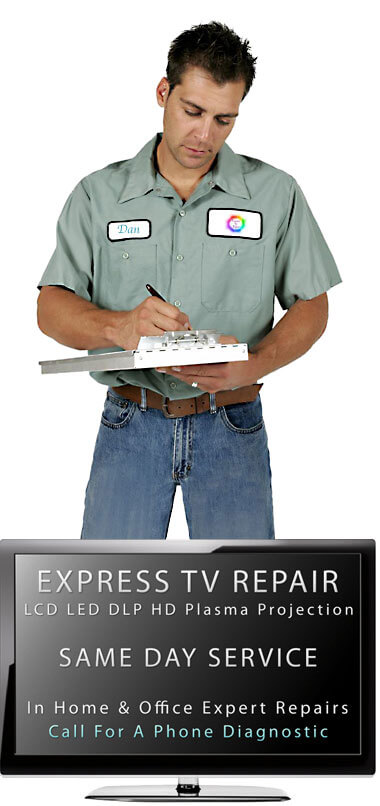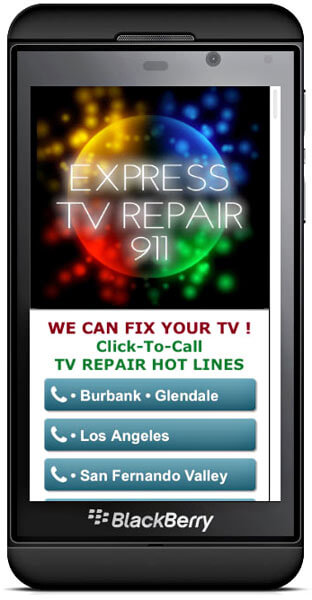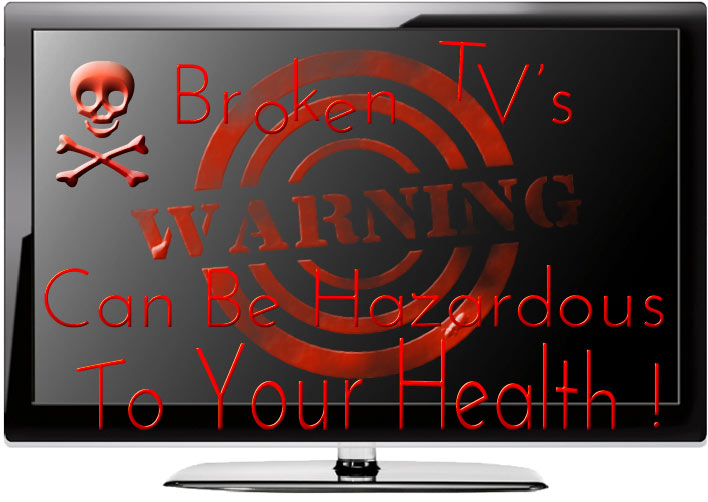 •Tap a Local Number to Call



Burbank, Glendale, SF Valley




(818) 273-6070



L.A. Beverly Hills, Malibu




(323) 851-9000



Arcadia, Pasadena, Monrovia




(626) 623-3400



Oxnard, Simi Valley, Ventura




(805) 628-4000



Santa Clarita Valley


(661) 388-2200

Toll Free


(877) 222-0535






 1.  Our Tech Support receives inquiries for every imaginable TV repair issue you can think of. Many problems for certain TV's are the same issues over and over. We maintain a comprehensive database of every TV we repair as well as every call we receive. We use our database, the manufactures trouble reporting-database, and twenty five years of experience to diagnose your TV. ◊ eTV Home

 2.  For a super fast evaluation and preliminary diagnostic assessment, contact us and provide a few pieces of information about your TV... namely the make and model and a brief description of the issues. You can call directly or send us your TV info via the Fast Help form above (scroll up to TV FAST HELP). On The Run? Read about our TV Repair Mobile Phone App here. ◊
 3.  If you choose to Instant Message us using the TV Fast Help form (above), Know This... Were Fast! Sending our Fast Help form gives us a few minutes to assess your TV issues before we call you to discuss your best course of options. Your TV Make and Model number will be necessary. We'll discuss the potential causes based on the symptoms you describe during the phone assessment. ◊
 
 4.  Do you know if your TV has ever been repaired before? Did you buy the TV new? What is the age of the TV? It's most likely we have repaired your TV Make and Model numerous times. Providing the TV model# will confirm the size of the television screen. Relax! We Got You Covered. Who Makes The Best New TV? •  How To Protect Your TV ◊

Our TV Repair Service Areas

◊ THE SAN FERNANDO VALLEY:
Agoura, Agoura Hills, Arleta, Balboa Park, Bell Canyon, Calabasas, Oakpark, Canoga Park, Chatsworth, Cahuenga Pass, Encino, Granada Hills, Hidden Hills, Kagel Canyon, Knollwood, Lake Balboa, Lake View Terrace, Malibu, Mission Hills, Montrose, NoHo Arts District, Northridge, North Hills, North Hollywood, Oak Park, Olive View, Pacoima, Panorama City, Porter Ranch, Reseda, San Fernando, Sepulveda, Shadow Hills, Sherman Oaks, Studio City, Sun Valley, Sunland, Sylmar, Tarzana, Thousand Oaks, Toluca Lake, Toluca Woods, Topanga, Tujunga, Valley Village, Van Nuys, Ventura Business District, Universal City, Warner Center, West Toluca, Winnetka, West Hills and Woodland Hills.

◊ PASADENA, ALHAMBRA, BURBANK & GLENDALE:
Altadena, Arcadia, Duarte, Eagle Rock, La Canada, La Crescenta, La Tuna Canyon, Montrose, Monrovia, Sierra Madre, South Pasadena, East Pasadena & Temple City.

◊ SANTA CLARITA VALLEY:
Acton, Agua Dulce, Canyon Country, Castaic, Newhall, Saugus, Santa Clarita, Stevenson Ranch & Valencia.

◊ VENTURA COUNTY:
Camarillo, Bell Canyon, Fillmore, Moorpark, Newbury Park, Oak Park, Oak View, Ojai, Oxnard, Simi Valley, Thousand Oaks, Ventura & Westlake Village.

◊ LOS ANGELES:
Beverly Hills, Brentwood, Holmby Hills, Hollywood Hills, L.A, West L.A, West Hollywood, Pacific Palisades & Marina Del Rey.
San Fernando Valley - Burbank - Glendale - Santa Clarita - Simi Valley
Oxnard - Pasadena - Ventura - Los Angeles

Express TV • eTV Television Repair & Service